Choosing the Right Dog Carrier for Your Bike
The majority of dog lovers who also enjoy biking take their four-legged buddies for walks or to do errands. The solution is a bike basket for dogs. A dog bike basket makes a lot of sense when you think about it. Additionally, there is no better way to get around with your large friend than an electric bike.
Different Types of Dog Carriers for Bike
Front Basket Carriers
Placing your companion in your front basket is one of the simplest and cutest ways to take them along on your trips. It is a terrific alternative for a quick trip if your bike already has a front basket installed because there is nothing more you need to prepare in advance. Be sure your front basket is solid, steady, and durable even if you are dealing with a tiny teacup breed.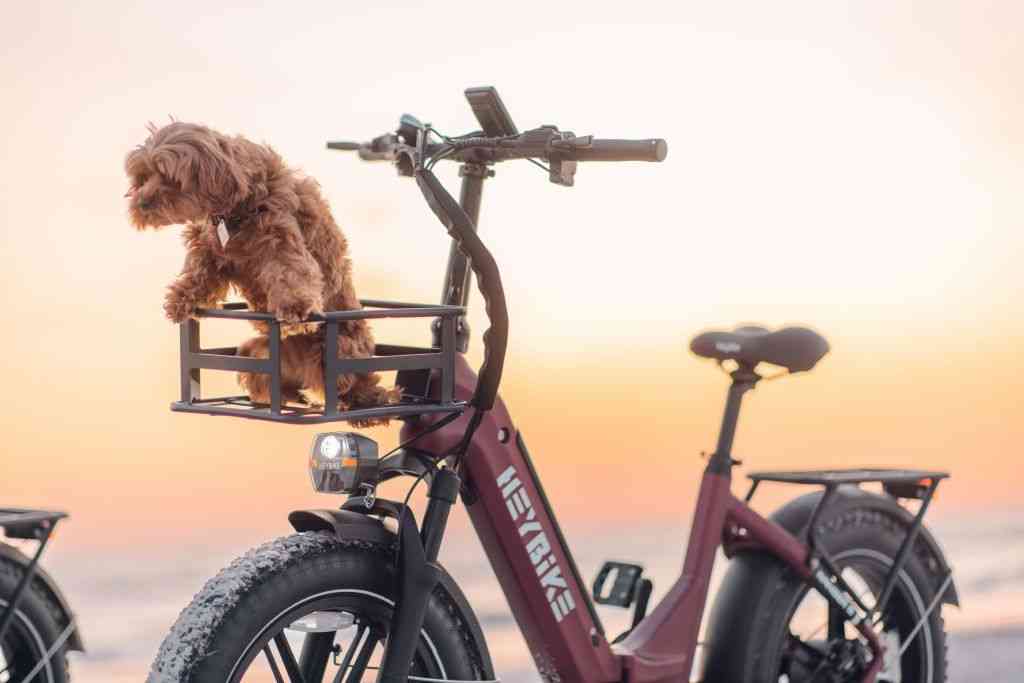 Rear Rack Carriers
This rear basket offers you the best of both worlds—convenience and quick loading together with safety and comfort for your dog for possibly longer rides—by acting as a compromise between the front basket and the trailer.
Longer-tailed cargo bikes are ideal for attaching large back baskets, and they are smooth enough that you can leave them attached even on trips where your dog will not be riding with you. They are handy for longer outings to the grocery store or commuting to work. These rear basket designs can accommodate medium-sized canines as they are also significantly roomier than front baskets (less bulky than trailers).
Trailers
For longer rides, we advise the trailer bike attachment is the best alternative because it is a very secure and pleasant way to transport your dog on your bike. It makes them ideal for people with dog families because many of them can transport more than one dog, obviously depending on their size.
Factors to Consider when Choosing a Dog Carrier for Your Bike
You should consider some elements when deciding which bike carrier you will use for your pet.
Size and weight of your dog
The size and weight restrictions of the basket should be your priority. Dogs of varying weight ranges can fit in baskets with ease. Weighing your dog will help you buy a product that will sustain them. There is a narrow line between giving them a large enough basket and one that is too little. Dogs who fit into smaller baskets could feel crowded. Stress may eventually result from this. Larger baskets, though, might start to sway while you are riding.
Types of bikes you have
Not all bike designs are compatible with dog baskets, be careful if you want to buy one for your bike. Just be careful not to get sidetracked by their cuteness if you are an anxious pet parent. Having your dog up front also means that your dog will be visible for the entire trip.
Budget
Rarely is the cost of a pet carrier an accurate indicator of its effectiveness, comfort, or durability. When selecting the best carrier for your pet, consider consumer ratings and reviews, design awards, or endorsements from reliable third parties.
FAQs about Carrying a Dog when You Ride a Bike
Q: Can you attach a dog carrier to an electric bike?
Yes, pet carriers for electric bikes are made to make it easier for you to take your pet on your favorite outdoor adventures. They allow quick and simple attachment to many e-bike models and easy storage for snacks and other items. As long as your dog has the stamina, is not overly nervous or skittish, you have good control of your e-bike, and pay close attention to your dog's wellbeing, riding with your dog is safe.
Q: Can you use an electric bike to exercise your dog?
Yes, choosing an electric bile might provide you and your canine companion with a great workout, as they have grown in popularity in recent years. Large to medium-sized canines might enjoy comfortably jogging beside their electric bike. Small dogs, however, are more prone to injury and will not be able to keep up with you.
Q: Can I put my dog in any bike basket?
Always choose a bike basket according to the size and weight of your dog. Some breed dogs ( not more than 12 pounds) can easily fit in a front basket. While some dog carriers can accommodate up to 22 pounds.
Conclusion
Riding your electric bike with your dog may be fun. E-bikes are heavier and more tricky to control than standard bikes. So, consider all factors when choosing how to bring your dog along for a bike trip.
So, there are a few different ways to transport your dog, big or small, on your electric bike. There are also safe ways to go about it. For the ideal dog carrier or other option for you and your dog, check out all of the wonderful choices in this article!
And may you and your puppy have a tons of amazing e-bike experiences!