E-Bike Helmets vs. Regular Ones
There are hundreds of helmet styles and features to choose from while buying one for you. If you're thinking about the price, style, or color only, then you should know that there are so many things that you can consider.
Though all the helmets are almost the same and their work also, ebike helmets are different from the regular ones. These ebikes commute faster than the regular ones, so you need some extra safety for that.
Consider the safety first and then discover the comfort level. LED lights, ventilation, weight, and the brim type can make your helmet more valuable. As you're investing a good amount in your ebike, you should also invest in your helmet.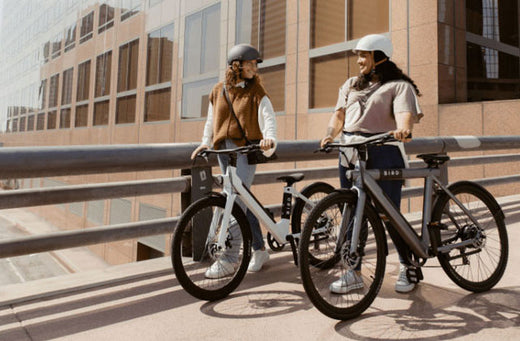 Are E-Bike Helmets Different from Regular Ones?
To be clear, it's not the helmet that distinguishes an electric bike from a standard bicycle; it's the electric bike. The experience of riding e-bikes is exceptional. Since motor-assisted electric bikes are significantly faster and more potent than regular bikes.
Some extra features in your ebike helmet will be beneficial for commuting. It would be best if you took extra precautions to avoid significant injury to your head in the event of a collision. For most e-bike users, high-quality electric bike helmets with enhanced protection, such as MIPS, are suggested.
There are different types of helmets available. Here are some typical electric bike helmets we've presented here:
Full Face Helmet
If you prefer to ride quickly and fly downhills on the weekends, a full-face helmet could be right for you. While a full-face helmet can appear overkill for ebike riding, a full-face helmet can safeguard.
An e-bike full face helmet is also better for freezing winter riding. If you haven't experienced one in the cold, you'll be surprised at how comfy they are. It's a well-ventilated, comfortable helmet that will keep you fresher than other full-face helmets on the market.
Road Bike Helmets
If you're in warmer areas, a regular helmet can be the first choice for you. The reason is they are lightweight and highly breathable. This will help for better air circulation. Otherwise, you'll overheat too fast.
This versatile helmet has an integrated visor which is very comfortable. As it has an 'I-mould' construction, these road bike helmets absorb shock from impact. Moreover, the integrated visor sheds rain as well as direct sunlight.
Enhanced Helmets For E-Bike Users
It's a bit bulkier than the regular one, designed to cover more head area. These helmets are suitable for use on any ebike, but they would be attractive on mid-sized electric cycles.
These helmets will provide additional protection if you're traveling at higher speeds and going downhills. It comes in various colors, has an adjustable visor and a reflector.
Furthermore, it has a MIPS rotational impact protection solution, a Recco reflector, an NFC Medical ID chip, and an adjustable peak. It also has a unique breakaway peak that provides additional neck protection.
BMX/Skate Helmets
These helmets have a classic design and offer better ventilation and inside padding than standard road bike helmets. These helmets may look best when coupled with smaller or commuter ebikes; however, this is entirely up to you.
This top-notch helmet is built with action sports in mind and is available in sizes X-small to X-large. It has a high-density PE shell as well as a foam liner to save you from bumps.
Due to the wicking liner and fabric, you'll stay cool even in the hot weather. In summer, even when riding during the hottest part of the day, you'll stay cool with the helmet's vents.
What Are The Features That Should Be Included In Your Ebike Helmet?
Though safety is the primary feature of helmets, adding more features will help you commute comfortably on the route. Here are some of them:
Ventilation
A good helmet should have enough ventilation, especially if you plan to use your e-bike for commuting and fun. Wearing a helmet for an extended period can result in a hot, sweaty head; that's why the most high-quality helmets include built-in ventilation.
Lighting
With advanced LED technology and battery life, your helmet can be visible to others easily. Other drivers will get aware of you in the dark night, which will reduce the risk of collision.
Weight
While choosing a helmet, weight is one of the major factor. A lighter helmet can be more comfortable to use as it puts less strain and much airflow. A more lightweight helmet can be best for a more extended trip, but a heavier helmet is better for commuting in heavy traffic.
MIPS
The Multi-directional Impact Protection System (MIPS) is a technology that allows your helmet to float, allowing for some rotational movement on your head.
Because rotational forces are among the most dangerous for brain injuries, a helmet with a MIPS system requires a lot of the pressure away in the event of a crash, significantly reducing your risks of traumatic brain injury.
Do Bike Helmets Need To Be Certified?
When you go for a new helmet on the market, you can see helmets are labeled with strings of certification numbers. These are dependent on area safety laws. But the ones to keep an eye out for and that are by far the popular are listed below:
CSPS: The Consumer Safety Protection Commission (CSPS) ensures that all helmets marketed in the United States are safe and fit for their intended use.
EN1078: It is a European safety standard that applies to helmets for bicycles, skateboards, roller skates, and other related products. It goes through a long list of exams and is fairly rigorous.
NTA-8776: This is one of the e-bike-specific certifications. Helmets with this certification level have been tested to better security. This is a more usable rating for ebikes.
Wrapping Up
Generally speaking, there is no difference between a helmet on regular bikes and the helmet for ebikes. However, you have to choose a helmet that provides higher safety. There are thousands of stylish helmets on the market.
Choose the one that expresses your style, meets your requirements and also follow the local bike helmeet laws. While commuting in an ebike, protecting yourself with a high-standard and perfect helmet is essential. Select the one with proper ventilation, and the certified one as ebikes runs much faster than the regular bike.