Electric Bike Laws in California
How Does Electric Bikes Define in California?
California e-bike laws established the following classifications for e-bikes:
Class 1
E-bikes have three categories class 1 is the most basic. These are electric bikes with pedal assistance for low speeds. The only way the bikes will move is if you peddle. They have an electric motor that helps the rider pedal.
After the bike reaches 20 mph, the motor ceases to assist, though. Class 1 e-bikes are subject to a few rules. The bikes are legal on any paved areas that accept regular bikes.
Class 2
These electric bikes have a throttle but operate at low speeds. The bikes have motors that allow the rider to move forward without pedaling. The e-bike can be started and ridden without using the pedals.
As the speed hits 20 mph, the motor can no longer assist, just like class 1 bikes. Moreover, class 2 bikes are subject to fewer limitations. Many bikes in this category are allowed on paved surfaces where standard bikes are permitted.
Class 3
The class 3 electric speed pedal-assisted bikes are the last type. The bikes have strong motors that assist the user while they peddle. Bikes are permitted to go at a higher 28mph speed.
The engine assists you while you cycle, making it effortless. But as the speed reaches 28 mph, the assistance is cut off.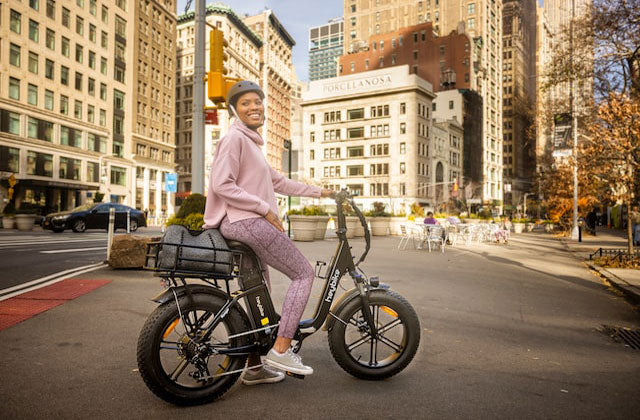 Where Can You Ride An Electric Bike in California?
According to California e-bike laws 2023, Electric bikes are now legal in locations where they were not previously. The rule currently prohibits communities from limiting e-bike riders' access to locations like bike lanes, bikeways, and trails. This rule increases the areas that Class 3 e-bikes can traverse. The quickest type of e-bike permitted in California is Class 3. On some hiking and recreation paths and horse trails, local authorities may still prohibit the use of e-bikes.
Frequently Asked Questions About Riding E-bikes in California
Do you need a license to ride bikes in California?
No, a rider or operator license is not required to ride an electric bike in California. In addition, unlike a moped or motorcycle, a bike does not require registration or a license plate. Nonetheless, using an electric bike is subject to the same traffic laws as riding a standard bike. You must abide by all regulations, including those governing rights of way, traffic signals, stop signs, and speed restrictions. All riders must follow the set-out traffic laws while on the road.
Are there any age restrictions for riding bikes in California?
Class 3 electric bike riders must be at least 16 years old.
Should I wear a helmet to ride bikes in California?
If you are 17 or younger, you must wear a helmet while operating or riding an electric bike in California. With a conventional bike, Class 1, or 2 e-bikes, you do not need to wear a helmet if you are 18 years or older. But, when operating a Class 3 bike, moped, or e-bike, you must always wear a helmet. The Department of Transportation (DOT) sticker on an approved helmet confirms that it satisfies federal safety and quality criteria.
Can I ride electric bikes on the sidewalk?
In California, you can ride an electric bike on the sidewalk if you can use a regular bicycle. Most downtown areas are eliminated as a result. The use of bikes on sidewalks in downtown business districts is prohibited by local rules in many Californian communities, despite the absence of a state statute that forbids such activity.
In California, you can ride an e-bike on a sidewalk if a street sign permits it or if the area where you are, like on private property, allows it. On a trail in California, electric bikes of classes 1 and 2 are allowed. On a recreational trail or a bikeway, Class 3 electric bikes are not allowed. The law is an exception if the path is next to a major road or highway or when a local ordinance is in effect.
Regular bike lanes are accessible to electric bikes. The classes that can ride in ordinary bike lanes are restricted. For instance, class 3 electric bikes are not allowed on designated bike lanes. Class 3 bikes may be subject to local or municipal rules but only within the specified area.
Can I modify my electric bike in California?
Riders are not allowed to alter or modify their electric bikes by the law. But, one must update the classification label to adjust their electric bikes.
Conclusion
You must comply with the rules and specifications for electric bikes when you are in California. Be sure the bikes you order have a maximum motor power of 750W or less. When riding an electric bike, make sure to understand the speed limits. Recognize your classification as an electric vehicle and the requirements.