The Pros and Cons of Chain Locks vs. U Locks
What are the Typical Types of Bike Locks
If you ride an e-bike, you undoubtedly are familiar with its importance and take great care to keep it secure. You can lock E-bikes securely while you go to work or complete specific tasks like traditional bikes. The E-bike folding chain lock and the U lock are the two most popular locks for your electric bike available in the market today.
There are some differences in the qualities and properties of these locks like there are in everything else. The safety of the E-bike is the chain's first and most crucial function. As a result, you may secure your bike with the chain in a designated e-bike and e-bike parking spaces and leave with the confidence that it will still be there when you return. There are many security choices available regardless of the lock type you choose.
Solid steel chain locks connect to provide the desired length. The system locks the links together at the end.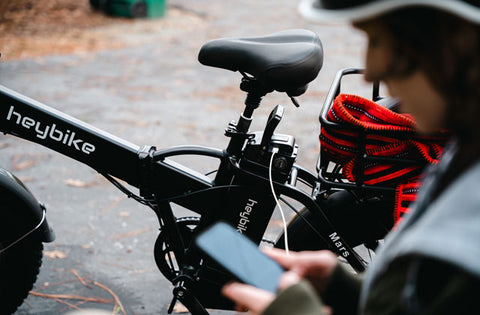 The second most typical kind of lock is made of a solid steel bar that curves into a U form. A retaining bar that, when locked, completes a D shape is the system's last component. In the US, these locks are known as U-locks and D-locks, respectively.
In terms of pure security, there is no distinction between the two approaches. A particular type of lock is not required, more steel is more secure, and 12mm steel is more secure than 8mm steel. The security will be the same if you use a chain lock with 12mm links and a U lock with 12mm shackles. One caution is that you should ensure the retainer bar locks on both sides on the U lock side so that it requires two cuts to unlock.
Lock styles differ in terms of their portability and usability. Many individuals choose one of the best lightweight bike locks instead of one made of more steel since more steel means more weight. You must realize the weight involved when security is put first.
Of course, if you do not have the luxury of bringing the E-bike to your workplace during business hours, these locks are the finest type of security when leaving the E-bike outside. You cannot take your electric bike into enclosed spaces, so you must store it outdoors where it is safe and secure.
Pros and Cons of Chain Lock vs. U Lock
There are some pros and cons of both of the locks of e-bikes.
Since chain locks are longer, they will be heavier and typically harder to travel. Many folks select a U lock solely for this purpose. Even a strong U lock may frequently be attached to a bike frame, and are typically portable.
The drawback of the tiny size is that it might be challenging to slip a U lock through the rear wheel, frame, and around an anchor on bikes with large tubes. The same holds if you attempt to lock a bike to something that is not a bike rack that is simple to use. Chains are more versatile in their uses and heavier for the same level of security.
Factors to Consider when Choosing a Bike Lock
Budget
At least 30$, but it can grow considerably nastier depending on the security you require. The average peace of mind cover would be between $30 and $50. Any budget over this allows you to start getting selective, albeit the most durable or cutting-edge locks can set you back considerably more, up to $70. You can even start getting inventive with combos for anything over $100.
For example, you can purchase a large chain lock for overnight home parking or a small U-lock for mobile vehicle locking. For $100, very secure combination locks are available for even better bikes in riskier locations.
Convenience of Use
They all provide various benefits in different ways. U-locks are an incredible security and cost option, but they are more tricky to maneuver comfortably and even slightly more difficult to lock (you need a thin post close to your frame). Chain locks are often hard to defeat and very simple to lock but are also heavy (especially the thicker ones).
Conclusion
Therefore, it comes down to personal preference and may vary depending on what and where you are locking up. Sometimes using both is the best course of action. Use a loop chain lock and u-lock that offer an extended locking option.
However, the best bike lock is one you can carry with you, so any bike lock you choose is preferable to none. Once you have made a choice, consult our security instructions for guidance on how to lock your bike.