Electric Bike Laws in Illinois
With the growing popularity of e-bikes, riders need to stay informed about the prevailing regulations that govern their use in Illinois. While e-bikes are considered a luxury that many can't afford, they are almost everywhere these days. But there are certain laws regulating the use of e-bikes in Illinois. This post gives you an insight into Illinois ebike laws including safety requirements governing the state of Illinois. You can use this as a reference to make sure you have a safe riding experience.
How are Electric Bikes Defined in Illinois?
E-bikes or electric bikes with low speeds are specific bicycles equipped with low-power motors that help the rider with pedaling. As such, e-bikes allow riders to travel considerable distances and carry decent weight with ease compared to traditional bikes. Also, people use e-bikes for other reasons, too.
But the downside of an e-bike is that it allows people to travel quicker than they might have done with little effort on regular bicycles. That way, the riders place themselves including others at risk when on the road.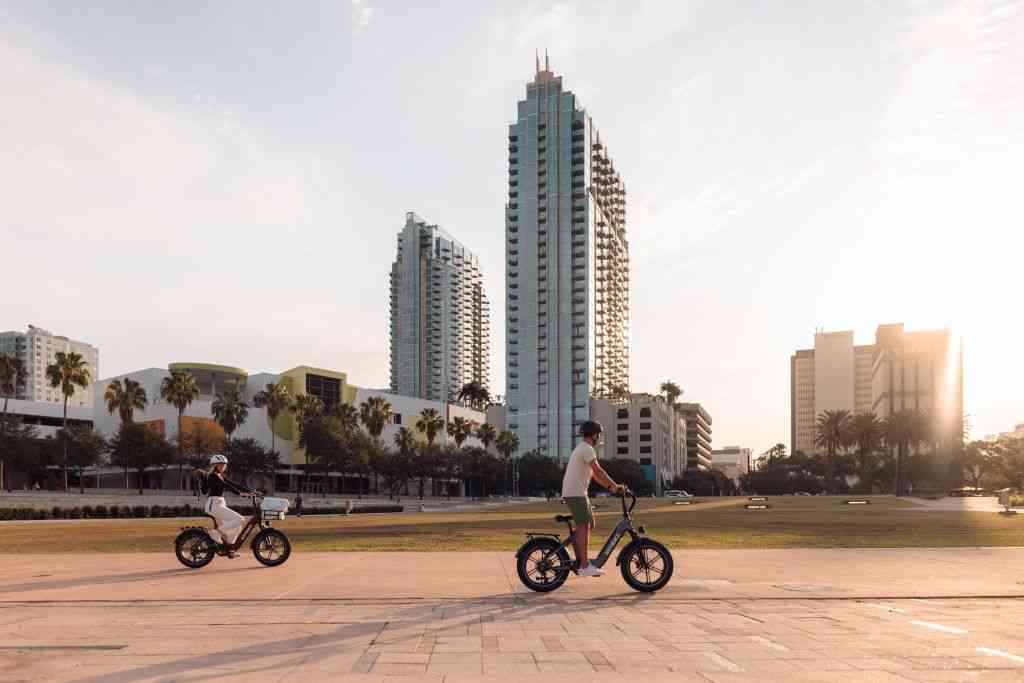 When it comes to defining an e-bike, the state of Illinois defines it as an electrical-assisted bicycle that is equipped with a 750W motor and not more than that. Furthermore, e-bikes are classified into 3 categories.
* Class 1 e-bikes - These e-bikes come with a pedal-assistant motor feature that has a maximum speed of 20mph. The motor stops working beyond that.
* Class 2 e-bikes - These e-bikes come with a motor that propels the bicycle even if you don't pedal. However, the motor works below 20 mph and stops after that.
* Class 3 e-bikes - These e-bikes are similar to Class 1 but the speed limit is a bit higher. The e-bike stops working after attaining 28 mph speed.
Where You Can Ride E-Bikes in Illinois
Ebike laws Illinois prohibit electric bikes from riding on sidewalks. However, riders can use specifically-marked bike lanes and paths when riding their Class 1 or Class 2 e-bikes. But riding Class 3 e-bikes may be subjected to local laws. When it comes to streets and roads, all categories of e-bikes can ride on public streets and roads permitted by the state of Illinois.
Existing local regulations are in order regarding using e-bikes in public spaces and parks. Check with the concerned authority when riding in these areas. Ebike riding on multi-use trails depends on local laws as well. So, familiarize yourself with the prevailing regulations when riding in a specific location.
Frequently Asked Questions About Riding Ebikes in Illinois
Q: Do you need a license to ride e-bikes in Illinois?
No, you don't need a license to ride an e-bike in Illinois. When it comes to ebike laws in Illinois, riders don't have to possess a valid driver's license. There is no need for insurance as well. However, Illinois law requires the registration of e-bikes. When riding in Illinois, make sure you have proper registration documents close at hand in case an officer wants to see them.
Q: Is there any age restriction to riding e-bikes in Illinois?
An individual, whether male or female, can ride e-bikes in Illinois. However, they should be at least 16 years and required to complete a motorcycle training course from the Illinois Department of Transportation or IDOT. Riders under 18 years have to take the written test and driving exam as well. Additionally, a person less than 16 years can only ride as a passenger on Class 3 e-bikes designed specifically to carry passengers.
Q: Should I wear a helmet to ride e-bikes in Illinois?
Ebike laws in Illinois do not have specific laws regarding wearing helmets. Still, it is wise to wear a helmet when riding an e-bike to avoid minor injuries resulting from falls. Therefore, wear a helmet for your safety and well-being.
Conclusion
No wonder, ebike laws Ilinois are bound to change over time and the information mentioned above may become non-applicable and outdated. Hence, it is wise to check with local agencies or states for the most recent Illinois ebike laws that govern the legal and proper use of e-bikes in your area. Follow the regulations strictly to keep yourself and others safe. That way, you can ride responsibly and legally while having an enjoyable e-bike riding experience.